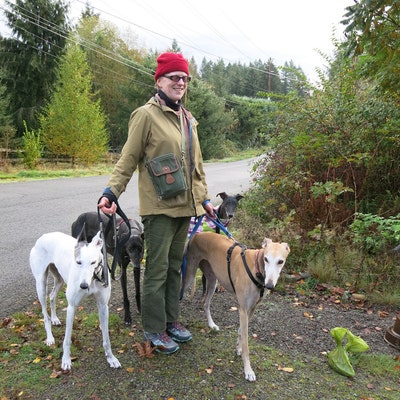 Artist Spotlight, April/May: Suzanne Hamer of Birds for Birds
We're starting a new feature to highlight our generous artists who donate their time and items to our shop to benefit sighthound rescues. This month we are featuring one of our newest donors, Suzanne.
From Suzanne:
I was born in Seattle, Washington and still live in the area. As a child I was always encouraged to draw and paint. Our house was filled with art. Later I attended Cornish Institute of the Arts. I became very interested in photography and later, printmaking.
Animals have always been my passion and inspiration. I have also been influenced by the Blue Rider and German Expressionism, which you can see in my bird prints. Lately, I have become quite involved with a local greyhound rescue which has led to the creation of my greyhound and galgo prints. I currently reside with 3 greyhounds and 1 galgo.
I donate all profits to animal charitie

s.
Please take a look at Suzanne's shop, Birds for Birds, on Etsy.
We appreciate all of our generous artists! Check out our shop here.